Collegiate athletes work impressively hard. Even beyond the hours of daily training, many put in a commitment that approaches 24/7. Why are athletes so passionate about amateur competition? Perhaps it is because winning is fun and finding out how good we can be is, in itself, success. Perhaps it is being part of a committed team. The excitement builds towards the opportunity to compete for a championship. Suppose you are a runner and you work all year to compete in a 600 Meter race at the Big 10 Championships. This race, three times around the track, is basically a sprint. Certainly you would be well prepared and excited. The competitors represent the top runners from one of the top Division I conferences in the country. What happens if, just over halfway through the finals, you take a little sniper spill? If you're Heather Kampf (maiden name Dorniden), here's what happens:
I asked Kampf if she had a peak performance in this race. She said, "I think so. I didn't even realize how hard I fell until afterwards when I saw the video of myself." Kampf: "The entire meet is about trying to earn points for the team. We had a chance to do something special, something that had never been done before at the University of Minnesota. When I fell, I never felt sorry for myself. I noticed that it got very quiet in the arena. Literally, my only thought was that I need to get up and get points for the team. I was shocked at how much of a gap the athletes had made in front of me. I just wanted to earn any points that I could." As it turns out, her team did with the championship that year, by exactly the number of points Kampf earned in this race!
Kampf said something else about this race: "Many people have said that my performance in this race inspires them to never give up. The important thing to me is the reason: don't give up because we really don't know the potential we have within ourselves unless we keep trying. Obstacles are what bring out the best within us, so I've learned to be grateful for challenging situations."
I want to thank Heather Kampf for taking the time to visit with me and contributing to this article.
Heather currently runs for Team USA Minnesota. Her sponsors are ASICS America and Nuun Hydration.
Heather's Website: www.goheatherkampf.com.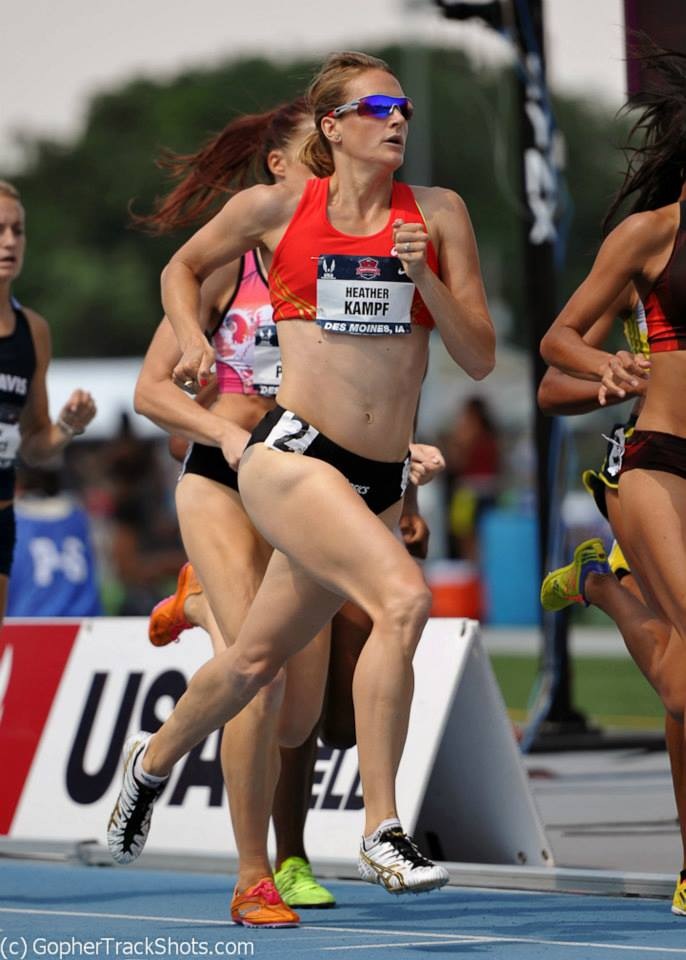 P.S. I asked Kampf what she's learned as a professional runner that may be good advice for others.
She had this fabulous nugget: "I continue to re-learn the importance of balance.
It's not necessary to be perfect, but it is important to be intentional
about doing the right thing most of the time.
Many athletes are like me: Type A personalities,
but being flexible and forgiving myself when I don't do things perfectly is really important." 

Have you been a part of a project or team that had you so inspired
that your response to adversity was a single-minded as Heather's?
Didn't you love that?
COMMENT about it below.